Due to the rapidly changing nature of the COVID-19 pandemic, we at Univadis would like to share with you the most impactful and clinically relevant articles across our network from the past week.
Some of these articles are only published in local languages, but we've tried to summarize the key points for you below and link to the original source of each article in case you'd like to read more, with languages other than English noted in brackets.
This is a snapshot of emerging best-practices during a rapidly evolving pandemic. Any and all information currently available related to COVID-19 is subject to change as more details become available. Some of the information below may also be contradicted by local or global health authorities.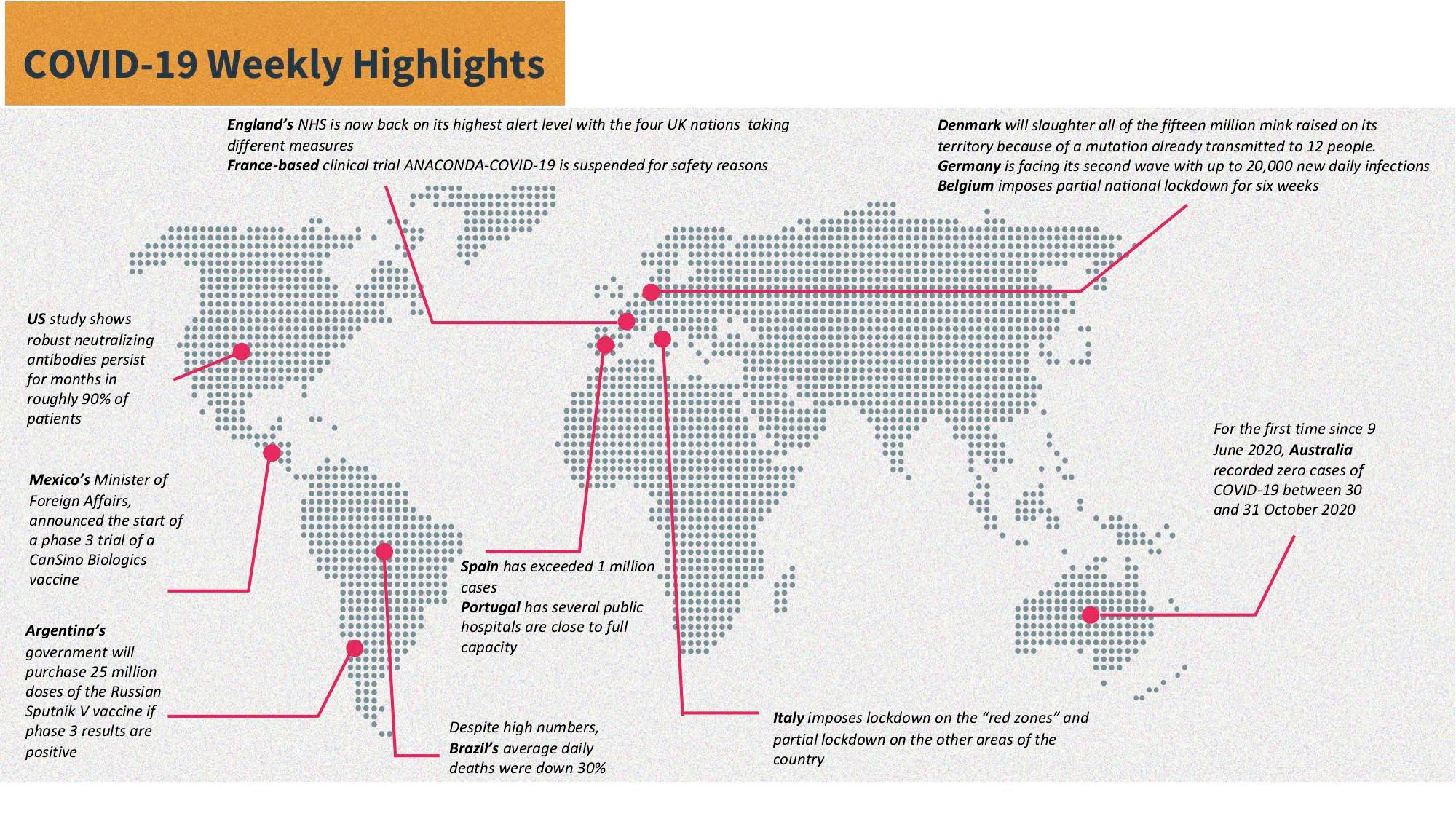 Denmark will slaughter all of the fifteen million minks raised in its territory because of a COVID-19 mutation already transmitted to 12 people, threatening the effectiveness of a future vaccine, the Prime Minister Mette Frederiksen announced Wednesday.
Australia's Ministry of Health issued a media release stating that the Government has secured a further 50 million doses of two more COVID-19 vaccines for the Australian population. The Novavax and Pfizer/BioNTech vaccines are expected to be available in the country from early to mid 2021.
In the midst of the presidential election, the United States registered 91,000 new cases of coronavirus. This is the second highest number of cases per day for the country since the beginning of the epidemic. In lighter news, a US study shows robust neutralizing antibodies persist for months in roughly 90% of patients .
In Brazil , 160,785 deaths and 5,575,289 cases were confirmed by 1 pm Wednesday. Despite these high numbers, average daily deaths were down 30% to 367 over the past week compared to 2 weeks ago. This is the lowest average since April 28 and the largest drop since the beginning of the pandemic.
In Mexico , Marcelo Ebrard, Minister of Foreign Affairs, announced that the phase 3 trial of a CanSino Biologics vaccine will start this week. The Ministry of Health and the Federal Commission for the Protection against Sanitary Risks rigorously evaluated and will be in charge of monitoring the trial. It aims to vaccinate 15,000 Mexican volunteers over 18 years of age in 20 health centers in more than ten states. There are currently more than 938,405 confirmed cases and 92,593 confirmed deaths in Mexico .
The Argentinian government will purchase 25 million doses of the Russian Sputnik V vaccine between December and the first half of January if phase 3 results are positive. Data reporting "a good safety profile" and a "strong humoral and cellular immune responses" were published September 4th . However, experts have noted concern with the data.
In France, due to a second wave of COVID-19 (18,866 new hospitalizations over the last 7 days including 2,884 in intensive care) , the cancellation of hospital interventions is on an upward slope. Dr Philippe Cuq, president of the Union of Surgeons of France calls for such cancelling of procedures to remain a medical and not an administrative decision . In this context, French caregivers wonder if they will hold up in this second wave . "We were asked to run a sprint and we did. Today we are facing a marathon", says Colas Tcherakian, a pulmonologist. Meanwhile, on the therapeutic side, a potential treatment didn't fulfill its promises. Following safety issues in the French ANACONDA-COVID-19 clinical trial, all trials evaluating the interleukin-1 antagonist anakinra in the treatment of COVID-19 were suspended.
Germany is facing the 2nd wave with up to 20,000 new infections a day . The Robert Koch Institute has adapted their test strategy this week, advising physicians not to test everybody with symptoms of a cold, but focusing on the ones who have "typical" symptoms like cough, fever and impaired taste and smell functions and who belong to a risk population or had contact with infected people. Also, intensive care physicians demand that hospitals should change to emergency modus and cancel "normal" surgery if possible, to be prepared for the wave of COVID-19 patients that will need intensive care.
England began a 4 week national lockdown on Thursday to protect the NHS from being overwhelmed with COVID-19 cases . NHS England Chief Executive said "the equivalent of 22 of our hospitals" are already full of coronavirus patients. England's NHS is now back on its highest alert level. The four UK nations are taking different measures, with Wales due to end a "firebreak" lockdown on Monday. GPs have been put on standby to help deliver a coronavirus vaccination programme in December if one of the options, such as the Oxford/AstraZeneca vaccine, is approved in time.
Belgium imposes partial national lockdown for six weeks. The country's prime minister warned healthcare services becoming overwhelmed, with intensive care capacity set to be breached. A partial national coronavirus lockdown has been imposed in Belgium due to a drastic rise in cases [French].
Spain has exceeded 1.2 million cases of covid-19 with more than 15,000 cases per day, among the highest rates of the pandemic. The central government along with the regional governments agreed on a national plan to limit the spread of COVID-19. Regardless, they will not apply a general lockdown for the moment and will wait one or two weeks to see if the measures are effective.
Italy imposes a lockdown [Italian] in "red zones" and a partial lockdown on the other areas of the country. The Government has established a composite indicator based on the number of new cases, number of deaths and number of available ICU beds...to divide the country into red, orange and yellow zones, with different levels of restrictions. A re-evaluation of the classification will take place every 15 days.
In Portugal, the number of COVID-19 cases has increased dramatically in the last month and several public hospitals are close to full capacity. The Government announced the opening of more beds in hospitals and the hiring of more doctors and nurses. Due to the increasing number of cases, most of Portugal entered a new confinement, for at least 2 weeks. Schools will remain open, but commercial establishments and restaurants are expected to close earlier, as well as cultural centers.