Due to the rapidly changing nature of the COVID-19 pandemic, we at Univadis would like to share with you the most impactful and clinically relevant articles across our network from the past week.
Some of these articles are only published in local languages, but we've tried to summarize the key points for you below and link to the original source of each article in case you'd like to read more.
This is a snapshot of emerging best-practices during a rapidly evolving pandemic. Any and all information currently available related to COVID-19 is subject to change as more details become available. Some of the information below may also be contradicted by local or global health authorities.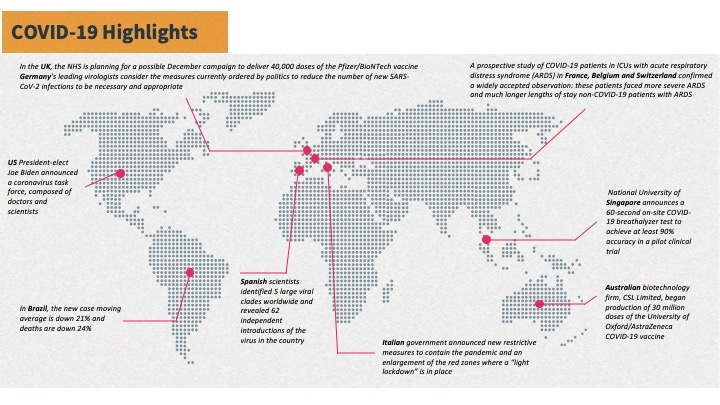 Pfizer and BioNTech's vaccine candidate has been found to be 90% effective in preventing COVID-19 in trial volunteers who were without evidence of prior infection, results from an interim analysis of a phase 3 study demonstrated.
Morocco to become the first country in the world to launch a national vaccination campaign . According to Mohammed VI's instructions sent on November 9, the vaccination campaign should reach the entire population over the age of 18 by the end of March.

US president-elect Joe Biden announced a coronavirus task force , composed of doctors and scientists, on November 9. "Dealing with the coronavirus pandemic is one of the most important battles our administration will face, and I will be informed by science and by experts," Biden said in a statement. "The advisory board will help shape my approach to managing the surge in reported infections; ensuring vaccines are safe, effective, and distributed efficiently, equitably, and free; and protecting at-risk populations."

Victoria, Australia, which was once a major COVID-19 hotspot, has recorded no new cases or deaths for the 12th consecutive day. CSL Limited, an Australian biotechnology firm began production of 30 million doses of the University of Oxford/AstraZeneca COVID-19 vaccine earlier this week.

The Singapore Ministry of Health has stated that from December 1, any company or individual in Singapore who needs a PCR test will be able to get one from approved providers. Breathonix, a spin-off company from the National University of Singapore said in a news release that its 60-second on-site COVID-19 breathalyzer test was able to achieve at least 90% accuracy in a pilot clinical trial.
In Belgium, as COVID-19 hospital admissions continue to decrease slowly, pressure on intensive care remains, and the number of deaths is still rising sharply. Belgium is still in partial lockdown until mid December. The decision about whether or not the country will order the Pfizer/BioNTech vaccine (which is already being mass-produced in Belgium) will likely be made next week. Trials with the Johnson & Johnson vaccine will resume on Thursday.
In Spain, deaths have reached their highest rate of the second wave, with an incidence of new cases that seems to be stabilizing. The minister of health estimates that starting in 2021, 10 million people could receive the Pfizer/BioNTech vaccine. A SARS-CoV-2 whole-genome analysis by Spanish scientists has identified five large clades worldwide and revealed 62 independent introductions of the virus in the country.
Brazil has 5,722,878 diagnoses and 163,078 deaths from coronavirus by 1 pm on Wednesday. The new case moving average is down 21% and deaths are down 24% in the last 7 days compared to 2 weeks prior. A hacking attack was causing difficulty for several states in accessing the Ministry of Health data platform to update information about COVID-19. In a statement, the ministry said that "since the end of the afternoon on Tuesday, the platform has been stable and constantly monitoring its performance."
In Portugal, a 15-day state of emergency was decreed on November 9. Among the measures to control the pandemic, the Council of Ministers banned circulation on public roads between 11 pm and 5 am on weekdays and from 1 pm on Saturdays and Sundays. The measure applies exclusively to 121 municipalities with a high risk of COVID-19 transmission. Travel exceptions include professional functions, health reasons, assisting vulnerable people and walking pets, among others. The country recorded a total of 192,172 cases and 3,103 deaths by the 11th.
In Italy, the Government announced new restrictive measures to contain the pandemic and an enlargement of the red zones where a "light lockdown" is in place. According to official data from the Ministry of Health, there are now over 1 million COVID-19 cases. An agreement with Pfizer to deliver 3.4 million doses of the new vaccine in the first trimester of 2021 was announced. A study conducted by a collaborative group of Italian cardiologists quantified the incidence of pulmonary embolism (PE) in 689 COVID-19 patients hospitalized in 13 Italian hospitals, 15.8% invasively ventilated and 43.6% non-invasively ventilated. 52 (7.5%) had PE over 15 (9–24) days of follow-up. The relation between D-dimer concentrations and PE incidence was linear ( Ameri 2020 ).
UK deaths within 28 days of a positive test passed the 50,000 milestone this week. The UK's deaths are the worst in Europe, and fifth worst globally, behind the US, Brazil, India, and Mexico. The total of COVID-19 mentions on death certificates is even higher at 61,648. Meanwhile, the NHS is planning for a possible December campaign to deliver 40,000 doses of the Pfizer/BioNTech vaccine once it is approved by the UK medicines regulator.
In Germany, the German Society of Virology (GfV), members from the executive and advisory board, and several leading virologists in Germany consider the measures currently ordered by politics to reduce the number of new SARS-CoV-2 infections to be necessary and appropriate in the overall picture. In a statement released on 6 November , they also criticized a presentation of the National Association of Statutory Health Insurance Physicians (KBV) calling for softer measures and implying there was medical and scientific consensus for these .

A prospective study of COVID-19 patients in ICUs with acute respiratory distress syndrome (ARDS) in France, Belgium and Switzerland confirmed a widely accepted observation: these patients faced more severe ARDS and much longer lengths of stay than non-COVID-19 patients with ARDS. These two factors help to explain the strain on the resuscitation services' capacity during the first wave. The full study and French Health Authority summaries are available.
-Univadis, Medscape and Mediquality editorial team