Due to the rapidly changing nature of the COVID-19 pandemic, we at Univadis would like to share with you the most impactful and clinically relevant articles across our network from the past week.
Some of these articles are only published in local languages, but we've tried to summarize the key points for you below and link to the original source of each article in case you'd like to read more.
This is a snapshot of emerging best-practices during a rapidly evolving pandemic. Any and all information currently available related to COVID-19 is subject to change as more details become available. Some of the information below may also be contradicted by local or global health authorities.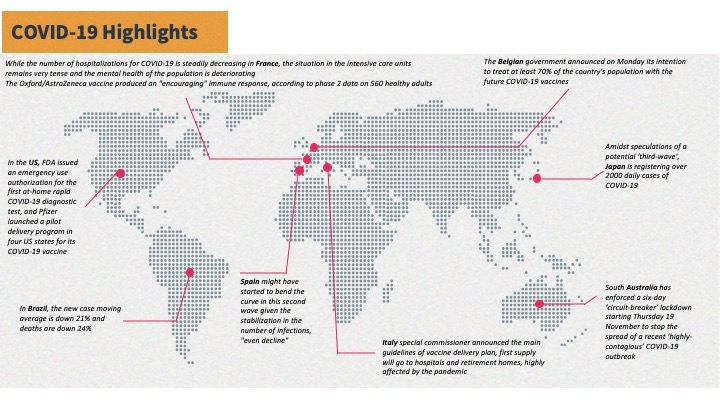 Moderna COVID-19 vaccine 94.5% effective at preventing COVID-19. Preliminary results from non-clinical studies and early clinical studies in adults suggest the vaccine triggers the production of antibodies and T cells.
South Australia has enforced a six-day 'circuit-breaker' lockdown starting Thursday 19 November to stop the spread of a recent 'highly-contagious' COVID-19 outbreak. The state had 35 active cases as of Wednesday 18 November, several of them from a single cluster in Adelaide .
Domenico Arcuri, special commissioner for COVID-19 at the Italian Ministry of Health announced the main guidelines of his plan to deliver the vaccine as soon as available. The first supply will go to hospitals and retirement homes, highly affected by the pandemic. The second supply will be delivered using drive-through stations, following a strict priority list that is still under discussion with epidemiologists and ethicists (fragile people, like elders and chronic patients, will be vaccinated first).
Amidst speculations of a potential 'third-wave', Japan is registering over 2000 daily cases of COVID-19. Tokyo reported a record 493 infections on Wednesday 18 November, surpassing the previous daily high seen in August 2020.
The Belgian government announced on Monday its intention to treat at least 70% of the country's population with the future COVID-19 vaccines. It will not be compulsory and it will be free for everyone living in the country. Approximately 1 in 6 Belgians said they do not want to be vaccinated against coronavirus, according to a recent survey. Belgium, a country of 11.5 million inhabitants where almost 540,000 COVID-19 cases and more than 14,000 deaths have already been recorded, is one of Europe's hardest-hit countries.
Spain might have started to blend the curve in this second wave given the stabilization in the number of infections, "even decline". Despite this trend, Spain has reached a new peak of daily deaths during the second wave, 435, and has exceeded 1.5 million confirmed cases of COVID-19. The government has announced a tax reduction on face masks from 21% to 4% and is planning to do the same with the hydroalcoholic gels. The Agency for Medicines and Health Products (AEMPS) has authorized the first phase III clinical trial for the vaccine against COVID-19 from Johnson & Johnson in nine spanish hospitals.
The United States surpassed another grim milestone this week, with more than 250,000 deaths since the pandemic began last spring. As case counts continue to rise, state and local governments imposed new restrictions , including mask mandates and closure of restaurants and bars. Meanwhile, a survey of nurses found that personal protective equipment is still in short supply and one doctor told Medscape he's worried what will happen to resources if too many regions of the country "flash" at the same time.
On the brighter side, the FDA issued an emergency use authorization for the first at-home rapid COVID-19 diagnostic test , and Pfizer launched a pilot delivery program in four US states for its COVID-19 vaccine. Pfizer also reported more complete data for its vaccine, now saying it is 95% effective, which is similar to the 94.5% efficacy Moderna reported for its vaccine a few days earlier.
While the number of hospitalizations for COVID-19 is steadily decreasing in France , the situation in the intensive care units remains very tense and the mental health of the population is deteriorating . "The mental health of the French worsened again between late September and early November," said Jérôme Salomon, Director General of Health. Mental health of healthcare professionals is also strongly affected as 63% of French physicians declare that COVID has worsened their burnout symptoms, in a recent Medscape survey
On a more positive note, a patient affected by the coronavirus received a double lung transplant for the first time in France, as his respiratory organs were practically destroyed.
UK Prime Minister Boris Johnson went back into self-isolation after he was 'pinged' by England's Test and Trace service telling him he had been in contact with someone who'd tested positive for COVID-19. He said it was right to follow the rules even though he was "bursting with antibodies" having recovered from the disease earlier in the year.
The Oxford/AstraZeneca vaccine produced an "encouraging" immune response, according to phase 2 data on 560 healthy adults published in The Lancet. It was also safe and well tolerated, the research team reported. Study lead author Professor Andrew Pollard commented: "Immune responses from vaccines are often lessened in older adults because the immune system gradually deteriorates with age, which also leaves older adults more susceptible to infections. As a result, it is crucial that COVID-19 vaccines are tested in this group who are also a priority group for immunisation."
-Univadis, Medscape and Mediquality editorial team