Due to the rapidly changing nature of the COVID-19 pandemic, we at Univadis would like to share with you the most impactful and clinically relevant articles across our network from the past week.
Some of these articles are only published in local languages, but we've tried to summarize the key points for you below and link to the original source of each article in case you'd like to read more.
This is a snapshot of emerging best-practices during a rapidly evolving pandemic. Any and all information currently available related to COVID-19 is subject to change as more details become available. Some of the information below may also be contradicted by local or global health authorities.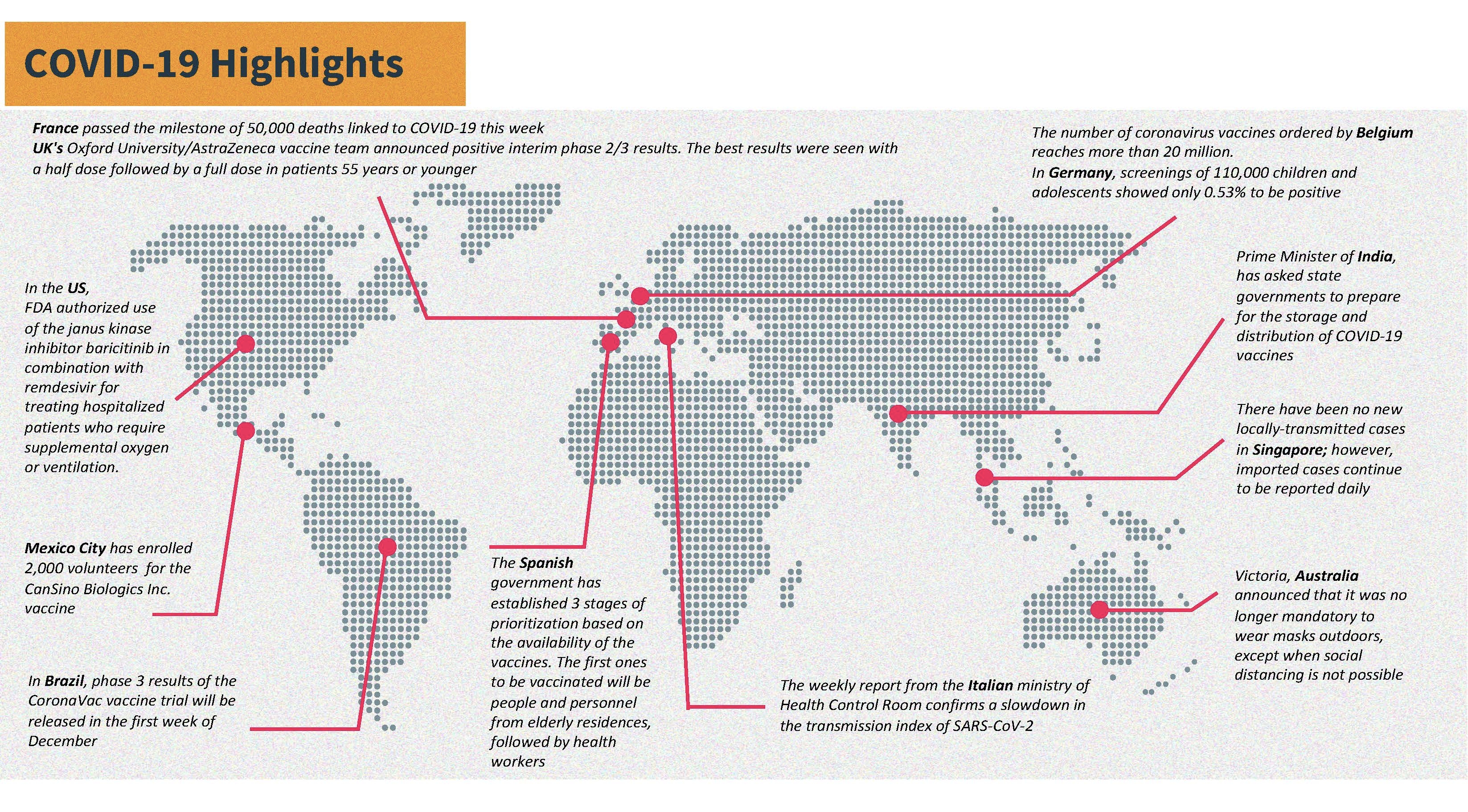 After 23 consecutive days of no new COVID-19 cases and no additional deaths, Victoria, Australia announced that it was no longer mandatory to wear masks outdoors, except when social distancing is not possible. People are still required to wear masks in indoor public areas and on public transport. The Chief Executive of Australia's largest airline Qantas hinted that once a COVID-19 vaccine is available, passengers may require a vaccination passport before they can travel abroad.
Malaysia reported a record 2,188 daily COVID-19 cases on 24 November. There have been no new cases of locally transmitted COVID-19 infection in Singapore since 11 November; however, imported cases continue to be reported daily.
Prime Minister of India, Narendra Modi, has asked state governments to prepare for the storage and distribution of COVID-19 vaccines. He stated that the Government of India is closely tracking the vaccine development process and is in touch with global regulators, Indian and multinational vaccine developers and manufacturers, and other governments. India's COVID-19 tally stood at 9.2 million as of 25 November.
In Belgium, the second COVID-19 wave peaked two weeks ago, there has been further decline in infection, hospital and death rates. So far, 561,803 COVID-19 cases were reported (15,938 deaths and 36,569 recovered). Belgium will receive the first doses of COVID-19 vaccine before the end of the year. Belgium has approved a fourth coronavirus vaccine purchase, CureVac. This brings the number of coronavirus vaccines ordered by Belgium to more than 20 million - 7.74 million from AstraZeneca, 5.16 million from Johnson & Johnson and five million from Pfizer.
The latest coronavirus study by the University of Antwerp shows Belgians are feeling down - more so than during the first wave - with students and unemployed workers in the hospitality industry among those feeling the most affected.
France passed the milestone of 50,000 deaths linked to COVID-19 this week. During his speech on Tuesday, November 24, the head of state, Emmanuel Macron, indicated that COVID-19 vaccines would be "non-compulsory". He added that the first vaccinations could be administered as early as the end of December and that the isolation of those infected could lead to coercive measures.
The UK's Oxford University/AstraZeneca vaccine team announced positive interim phase 2/3 results, thanks in part to a trial dosing error and younger patient population. The best results were seen with a half dose followed by a full dose in patients 55 years or younger. "The reason we had the half dose is serendipity," Mene Pangalos from AstraZeneca said. Checks were done when fewer than expected side effects were seen after the first dose, "and we found out that they had under-predicted the dose of the vaccine by half," Pangalos said.
Meanwhile, a UK-wide easing of lockdown was announced for 5 days over Christmas.
The Spanish Minister of Health presented a "COVID-19 vaccination strategy in Spain" on November 24th. The government has established three stages of prioritization based on the availability of the vaccines. The first ones to be vaccinated will be people and personnel from elderly residences, followed by health workers. Even though the number of new cases of COVID-19 is decreasing, Spain reached a new record of deaths this week at 537. The government and local authorities are building a "Christmas plan" with measures to limit the spread of the COVID-19 during the festivities.
In Portugal, there are record numbers of hospitalizations and the government considers that healthcare services are in a critical situation. Experts estimate that the country should reach the peak of the second wave between November 25 and 30.
The country is currently in a State of Emergency and healthcare workers considered "essential" to the public health system may now have their contract termination requests denied while the country is in such state. The Physician's Union says the measure is illegal.
On the 24th, the total number of individuals who had recovered from COVID-19 was 184,233. The number of diagnoses since the beginning of the pandemic reached 268,721.
In Italy, the weekly report from the Ministry of Health Control Room (9-15 November) confirms a slowdown in the transmission index of SARS-CoV-2, but in the frame of a high incidence of COVID-19 all over the country, with a significant pressure on health services. For this reason, the Health Minister Roberto Speranza confirmed the split of the country into different zones (red, orange and yellow) according to the transmission rate until December 3.
As of November 22, Italy counts 34,279 hospitalized patients, of which 3,801 in intensive care units, and 767,867 people officially tested positive and in home isolation (Ministry of Health). All the Regions have exceeded the 30% occupancy threshold of intensive care beds, with the exception of Veneto and Calabria. 10 Regions (on 22) have exceeded the 50% threshold and Lombardy is over 90% (Infodata Sole 24 Ore).
While general school closures are still not an issue in Germany, it has always been unclear how high the number of unreported cases among children and young people is. Typically, tests are only carried out when symptoms occur or after risk contacts. Now pediatricians in Germany are giving the all-clear: in screenings of 110,000 children and adolescents, only 0.53% of all tests were positive.
"At German children's hospitals, we test all children who are admitted, for the most part, routinely," says Prof. Dr. Matthias Keller, head physician of the Children's Hospital Dritter Orden, Passau. According to Keller, the random samples from 105 of 145 children's clinics inquired about in November showed that there was no significant under-testing of children.
Everything indicates that the infection rates in schools reflect the prevalence of COVID-19 in the environment, said the heads of the this analysis. Schools should not be considered to be hotspots or a major factor in COVID-19 transmission.
While the 2nd wave in Germany has peaked, the case numbers remain too high (over 20,000 infections per day), so contact restrictions are now being tightened. For the Christmas holidays and New Year's Eve, however, the ministers of the federal states and Chancellor Angela Merkel have announced loosening of the lockdown light: instead of 5 people from 2 households, 10 people will be allowed to celebrate together. Children under the age of 14 are not counted.
Mexico passed 100,000 deaths and is only surpassed by the US, Brazil and India. In Chile and Argentina, CanSino Biologics Inc. will start testing its coronavirus vaccine candidate; and Mexico City has already enrolled 2,000 volunteers that will start getting the vaccine by next week at the National Institute of Health Sciences and Nutrition "Salvador Zubirán".
The transmission rate rose again in Brazil. On the 16th, it was 1.1, according to a report by the Imperial College London (UK). A new report, released on the 24th, reported that this index reached 1.3. This means that each group of 100 people infected with SARS-CoV-2 transmits the disease to another 130 people.
It is at the highest level since May, which points to a further intensification of the rate of contagion. According to the media consortium that monitors data in Brazil, the country has exceeded 170,000 deaths by COVID-19 and has 6.1 million cases.
The good news in Brazil is that the phase 3 results of the CoronaVac vaccine trial (Sinovac + Instituto Butantan) will be released in the first week of December. In addition, results of tests with the Oxford/AstraZeneca vaccine showed 62% effectiveness with a standard dosing schedule.
As the COVID-19 surge continues across much of the United States, models now predict that cumulative cases could reach 20 million by January, nearly doubling the current total of 12.4 million. The escalating case numbers are already straining hospitals, particularly in the middle of the country. Some facilities report having to turn away patients because of a shortage of beds and staff. And nurses are fighting against a provision in North Dakota that would require they continue to work if they test positive but are asymptomatic.
In the face of the grim case counts, progress on treatments and vaccines is welcome. Pfizer and its German partner BioNTech filed an application with the US Food and Drug Administration (FDA) for an emergency use authorization of its COVID-19 vaccine. Some reports suggest vaccine distribution could begin by mid December. In addition, the FDA authorized use of the janus kinase inhibitor baricitinib in combination with remdesivir for treating hospitalized COVID-19 patients who require supplemental oxygen or ventilation.
-Univadis, Medscape and Mediquality editorial team